PP Sheet Extrusion Machine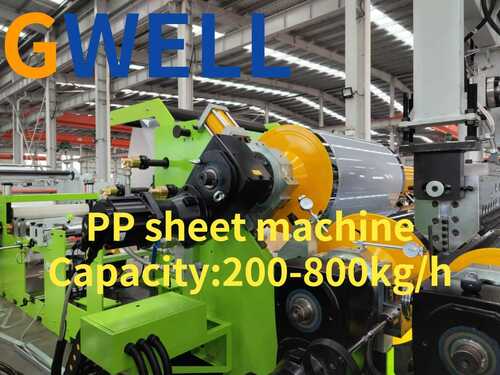 PP Sheet Extrusion Machine
Price And Quantity
Product Specifications
PP Sheet Extrusion Machine

200-800 Kg/hr
Product Description
PP/PS sheet production line
PP/PS sheet production line is a more standard machine among the many equipment provided by GWELL which has the advantages of high output, good plasticization, convenient operation and stable operation of the equipment.
PP/PS blister sheet, PP stationery sheet
PP/PS single-layer sheet, PP/PS co-extruded two-color sheet, PP double-sided high-transparent sheet and other sheets used in the blister packaging industry. PP transparent sheet, frosted sheet (coarse sand, fine sand), two-color sheet and other sheets used in the stationery packaging industry sheet.
PP sheet mainly in the field of stationery folders, packaging field of bulkheads, etc., as well as automotive interior field of light shields, sound insulation panels, luggage racks, interior decoration parts, lids, boxes, etc.
PS conductive sheet
Mainly used in semiconductor electronic computer communications and other products, especially used in the packaging of accessories or equipment that require dust-free, static-free, discharge protection and shielding electromagnetic wave/radio frequency interference.